Strategi Manajemen Keuangan Gereja Kalimantan Evangelis Dalam Bentuk Badan Usaha
Cristi Devi Darnita

Institut Agama Kristen Negeri Palangka Raya

Defri Triadi

Institut Agama Kristen Negeri Palangka Raya

Della Gita Van Gobel

Institut Agama Kristen Negeri Palangka Raya
Keywords:
badan usaha, manajemen keuangan gereja, strategi keuangan
Abstract
Financial management in religious organizations such as churches needs to be independent of church operational funds without relying on congregational offerings. The purpose of this study is to analyze the church's financial management strategy in managing its assets as an investment that generates funds for church management, especially in the Gereja Kalimantan Evangelis. The method used is a qualitative exploration with the techniques of observation, interviews, and documentation studies. This study analyzes the financial management strategy process  namely strategy formulation, development of vision and mission, identification of opportunities and threats  managing church assets at GKE Resort Tewah by building swallow nests and market blocks. The investment strategy results by managing church assets can fund all church operations and become a financially independent church without depending on congregational offerings.
Manajemen keuangan pada organisasi keagamaan seperti gereja perlu menuju kemandirian dana operasional gereja tanpa bergantung pada persembahan jemaat. Tujuan dari penelitian ini adalah untuk menganalisis strategi manajemen keuangan gereja dalam mengelola aset yang dimiliki sebagai suatu investasi yang menghasil dana untuk pengelolaan gereja, khususnya di Gereja Kalimantan Evangelis. Metode yang digunakan adalah kualitatif eksplorasi dengan teknik observasi, wawancara, dan studi dokumentasi. Hasil penelitian ini berupa analisis proses strategi manejemen keuangan yaitu perumusan strategi, mengembangkan visi dan misi, mengidentifikasi peluang dan ancaman. Bentuk penerapan strategi keuangan dengan mengelola aset gereja di GKE Resort Tewah dengan membangun sarang burung walet dan blok pasar. Hasil dari strategi investasi dengan mengelola aset gereja dapat mendanai seluruh operasional gereja dan dapat menjadi gereja yang mandiri secara keuangan tanpa bergantung kepada persembahan jemaat.
Downloads
Download data is not yet available.
References
Agus, S., & Kause, M. (2020). Peranan Managemen Keuangan dalam Pertumbuhan Gereja. Jurnal Teologi Rahmat, 6(1), 52–65. http://sttrem.co.id/e-journal/index.php/jtr/article/view/7
Alam, S., & Alam, R. (2019). Akuntabilitas Pengelolaan Keuangan Masjid Butuh Komitmen dan Kompetensi Pengelola. EQUITY: Jurnal Ekonomi, Manajemen Dan Akuntansi, 17(2), 54–71.
Anjaeni, R. (2020). Pola Pengeluaran Masyarakat. Nasional Kontan.
Hernawati, Euis; Hatimatunnisani, H. (2021). Pengaruh Perputaran Total Aset dan Debt To Assets Ratioterhadap Return On Assets. 04(01), 46–62.
Lase, E., & Karo, K. (2021). Financial Management in Improving The Service. 02(02), 10–12.
Lim, F. (2014). Terbatas Yang Belum Melakukan Penyesuaian Anggaran Dasar Berdasarkan Undang Undang Nomor 40 Tahun 2007. Law of Malaysia Act A1299 Companies.
Lovita, E., & Albert, A. (2021). Mengungkap Nilai-nilai Ajaran Gereja Dalam Implementasi Pengendalian Intern. 18(01), 39–48.
Mawikere, M. C. S. (2018). Efektivitas, Efisiensi Dan Kesehatan Hubungan Organisasi Pelayanan Dalam Kepemimpinan Kristen. Evangelikal: Jurnal Teologi Injili Dan Pembinaan Warga Jemaat, 2(1), 50–67. https://doi.org/10.46445/ejti.v2i1.95
Ngaji, P., & Laukapitang, Y. D. (2021). Korelasi Praktik Entrepreneurship Terhadap Kemandirian Gereja IFGF di Flores Jemaat Maumere. Repository Skripsi Online, 3(1), 48–56.
Novitasari, C. (2016). Praktik Akuntabilitas di Organisasi Gereja. Tesis. Satya Wancana Kristian University.
Nuel. (2020). Keuangan gereja. Tabloid Mitra. https://tabloidmitra.com/antara-pandemi-covid-19-keuangan-gereja-dan-gaji-pendeta/.
Pricilla, T. (2018). Sinode GKE Bentuk Badan Usaha dan Badan Penanggunalan Bencana. Borneo News.
Ratnasari, S., Tahwin, M., & Sari, D. A. (2017). Pengaruh Keputusan Investasi, Keputusan Pendanaan, Kebijakan Dividen dan Profitabilitas Terhadap Nilai Perusahaan Manufaktur Sektor Industri Barang Konsumsi yang Terdaftar Di Bursa Efek Indonesia. Buletin Bisnis & Manajemen, 03(01), 80–94.
Riva'i, V. (2004). Manajemen Sumber Daya Manusia Untuk Perusahaan (Radja Graf).
Sastrohartoyo, A. R., Abraham, R. A., Haans, J., & Chandra, T. (2021). The Priority of the Church's Ministry during a Pandemic. Evangelikal: Jurnal Teologi Injili Dan Pembinaan Warga Jemaat, 5(2), 164. https://doi.org/10.46445/ejti.v5i2.336
Susanto, S. B. &. (2021). Strategi Pelayanan Pastoral di Masa Pandemi Covid-19 Menuju Pertumbuhan Gereja yang Sehat. PNEUMATIKOS: Jurnal Teologi Kependetaan, 11(2), 95–104.
Wheelen, Thomas L; Hunge, D. L. (2008). Concept in Strategic Management and Business Policy (8th ed.). Andi Offset.
Yam, J. H. (2020). Manajemen Strategis (2nd editio). Nas Media Pustaka.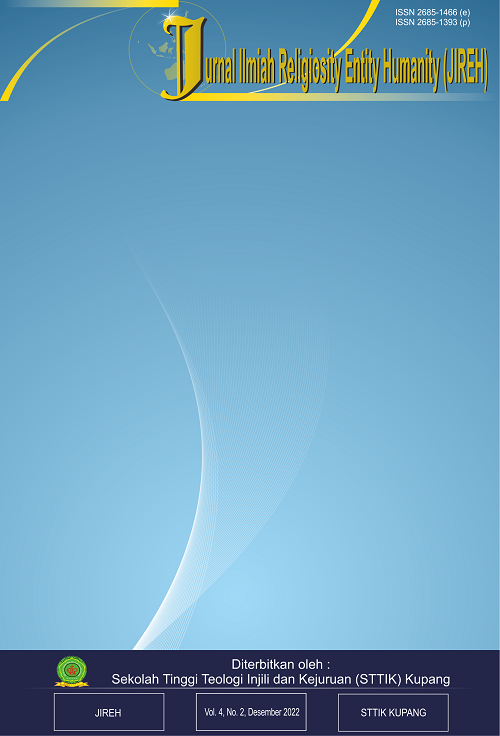 How to Cite
Darnita, Cristi, Defri Triadi, and Della Gita Van Gobel. "Strategi Manajemen Keuangan Gereja Kalimantan Evangelis Dalam Bentuk Badan Usaha". Jurnal Ilmiah Religiosity Entity Humanity (JIREH) 4, no. 2 (October 28, 2022): 152-164. Accessed March 23, 2023. https://ojs-jireh.org/index.php/jireh/article/view/99.
Copyright (c) 2022 Cristi Devi Darnita, Defri Triadi, Della Gita Van Gobel
This work is licensed under a Creative Commons Attribution-NonCommercial 4.0 International License.

Copyright © 2019. Published by STTIK Kupang - Jurnal Ilmiah Religiosity Entity Humanity (JIREH). All Right Reserved.

Abstract viewed = 370 times PDF downloaded = 354 times