Teologi Anak Menurut John Calvin dan Signifikansinya Bagi Kekristenan Masa Kini
Yuk Fran Siska

STT Reformed Injili Internasional

Benyamin F Intan

STT Reformed Injili Internasional
Keywords:
John Calvin, theology, children, the nature of children, childhood
Abstract
Children are the future of a society and the future of the church. Awareness of the importance of children to society and the church needs to be based on biblical concepts of nature of child and childhood. This is necessary because of the emergence of deviant attitudes towards children as a result of extreme understanding between children as sinners or children as innocent and pure individuals. One of them is the abuse of discipline and punishment and the underestimation of the possibility of crimes committed by children. Therefore, this article descriptively through literature study tries to retell the efforts of a reformer named John Calvin who has introduced the biblical concept of child and childhood with a balance between the sinful side and the precious side of a child in Geneva. Calvin's understanding and experience can set an example for a balanced view of children and childhood and help today's Christianity to carry out the responsibilities it should take for children in the family, church and society.
Anak-anak adalah masa depan dari sebuah masyarakat dan hari depan gereja. Kesadaran akan pentingnya anak-anak bagi masyarakat dan gereja perlu didasari oleh konsep yang biblikal mengenai natur dan masa kanak-kanak. Hal ini diperlukan karena timbulnya sikap-sikap yang menyimpang terhadap anak-anak sebagai hasil dari pemahaman yang ekstrem antara anak-anak sebagai manusia berdosa ataupun anak-anak sebagai pribadi yang polos dan murni. Salah satunya adalah penyalahgunaan disiplin dan hukuman serta penyepelean adanya kemungkinan kejahatan yang dilakukan oleh anak-anak. Oleh sebab itu, artikel ini secara deskriptif melalui studi pustaka berusaha menceritakan kembali usaha seorang reformator bernama John Calvin yang telah memperkenalkan konsep anak dan masa kanak-kanak yang biblikal dengan seimbang antara sisi berdosa dan sisi berharga seorang anak di Jenewa. Pemahaman dan pengalaman Calvin dapat memberikan contoh bagi cara pandang yang seimbang terhadap anak-anak dan masa kanak-kanak serta menolong Kekristenan masa kini untuk mengerjakan tanggung jawab yang seharusnya dilakukan bagi anak-anak di dalam keluarga, gereja dan masyarakat.
Downloads
Download data is not yet available.
References
Blacketer, Raymond Andrew. The School of God : Pedagogy and Rhetoric in Calvin's Interpretation of Deuteronomy. Netherlands: Springer, 2006.
Bouwsma, William J. (William James). John Calvin : A Sixteenth-Century Portrait. Oxford: Oxford University Press, 1988.
Brown, Scott. Family Reformation: The Legacy of Sola Scriptura in Calvin's Geneva. Wake Forest: The National Center for Family-Integrated Churches, 2013.
Brown, Scott T. Family Reformation : The Legacy of Sola Scriptura in Calvin's Geneva. Wake Forest, N.C: Merchant Adventurers, 2009.
Bunge, Marcia J. "A More Vibrant Theology of Children." In Children: Christian Reflection A Series in Faith and Ethics, edited by Robert B. Kruschwitz, 11–19. Waco: The Center for Christian Ethics at Baylor University, 2003.
———. "The Child, Religion, and the Academy: Developing Robust Theological and Religious Understandings of Children and Childhood." The Journal of Religion 86, no. 4 (July 19, 2015): 549–579. Accessed September 14, 2022. https://www.journals.uchicago.edu/doi/10.1086/505894.
Bunge, Marcia J. "The Child in Christian Thought (Religion, Marriage, and Family)" (2001).
Calvin, John. Calvin's Commentaries: Psalms Vol. 5. Grand Rapids, Michigan: Baker Book House, 1979.
———. Commentary on a Harmony of the Evangelists, Matthew, Mark, and Luke. Grand Rapids, Michigan: Baker Book House, 1993.
———. Institutes of the Christian Religion. Edited by John T. McNeill. Louisville, London: Westminster John Knox Press, 1960.
———. Letters of John Calvin Vol. 1. Philadelphia: Presbyterian Board of Publication, 1858.
Carpenter, Angela. "Sanctification as a Human Process: Reading Calvin Alongside Child Development Theory." Journal of the Society of Christian Ethics 35, no. 1 (2015): 103–119.
Diana, Ruth. "Prinsip Teologi Kristen Pendidikan Orang tua terhadap Anak di Era Revolusi Industri 4.0," Jurnal Teologi dan Pendidikan Kristen Kontekstual Vol. 2, No.1 (Juni 2019): 27-39.
Dickens, A. G. Reformation and Society in Sixteenth-Century Europe. California: Harcourt, Brace & World, INC., 1971.
George, Timothy. Theologi Para Reformator (Revised Edition), Terj. Katherina Tedja. Surabaya: Momentum, 2018.
———. Theology of the Reformers (Revised Edition). Surabaya: Momentum, 2018.
Karen-Marie Yust, Sasso Aostre N. Johnson and Sandy Eisenberg. Nurturing Child and Adolescent Spirituality: Perspectives from the World's Religious Traditions. Lanham, Md: Rowman & Littlefield Publishers, 2006.
Kingdon, Robert M. "Catechesis in Calvin's Geneva." In Educating People of Faith: Exploring the History of Jewish and Christian Communities, edited by John Van Engen, 294–313. Grand Rapids, Michigan: Eerdmans, 2007.
Krippendorff, K. "Reliability in content analysis: Some common misconceptions and recommendations', Human Communication Research, 30, no 3 (2004), 411–433. https://doi.org/10.1093/hcr/30.3.411
Lester, Andrew D. Pelayanan Pastoral bersama Anak-Anak dalam Krisis. Malang: Seminari Alkitab Asia Tenggara, 2002.
Parker, T. H. L. (Thomas Henry Louis). John Calvin : A Biography. London: Westminster John Knox Press, 2006.
———. Portrait of Calvin. London: SCM, 1954.
Pitkin, Barbara. "The Heritage of the Lord: Children in the Theology of John Calvin." In The Child in Christian Thought, edited by Marcia J. Bunge, 160–193. Grand Rapids, Michigan: Eerdmans, 2001.
Selderhuis, Herman J. "Calvin, Children and the Church." In Calvin Today: Reformed Theology and the Future of the Church, 56–64. Michael We. London: Bloomsbury Publishing, 2011.
Spierling, Karen E. Infant Baptism in Reformation Geneva : The Shaping of a Community, 1536-1564. Surrey: Ashgate, 2005. Accessed September 14, 2022. https://www.routledge.com/Infant-Baptism-in-Reformation-Geneva-The-Shaping-of-a-Community-15361564/Spierling/p/book/9780754634904.
Tong, Stephen. Arsitek Jiwa. Jakarta: Lembaga Reformed Injili Indonesia, 1993.
Wendel, François. Calvin : Origins and Development of His Religious Thought. Rapids, Michigan: Baker Books, 1997.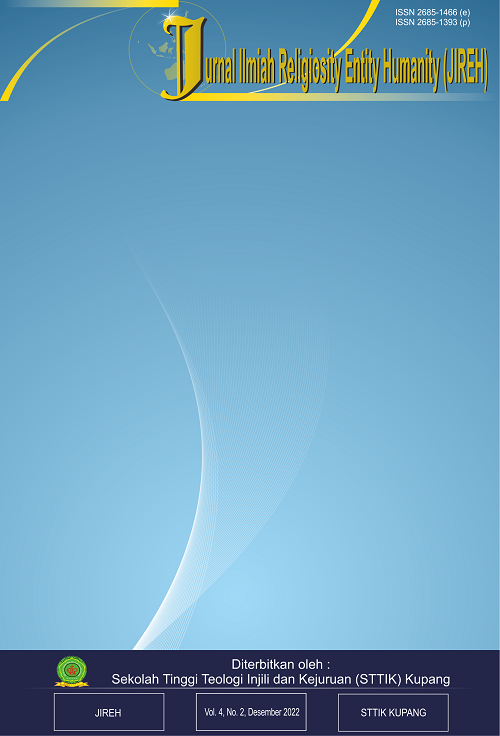 How to Cite
Siska, Yuk, and Benyamin Intan. "Teologi Anak Menurut John Calvin Dan Signifikansinya Bagi Kekristenan Masa Kini". Jurnal Ilmiah Religiosity Entity Humanity (JIREH) 4, no. 2 (October 28, 2022): 134-151. Accessed March 23, 2023. https://ojs-jireh.org/index.php/jireh/article/view/106.
Copyright (c) 2022 Yuk Fran Siska, Benyamin F Intan
This work is licensed under a Creative Commons Attribution-NonCommercial 4.0 International License.

Copyright © 2019. Published by STTIK Kupang - Jurnal Ilmiah Religiosity Entity Humanity (JIREH). All Right Reserved.

Abstract viewed = 415 times PDF downloaded = 289 times