Memancarkan Pengajaran Makna 'Habis Gelap Terbitlah Terang' Berdasarkan Efesus 5:1-21 dalam Diri Orang Kristen
Hasahatan Hutahaean

Sekolah Tinggi Teologi Injili Arastamar (SETIA) Jakarta

https://orcid.org/0000-0002-2224-0668

Marthen Mau

Sekolah Tinggi Teologi Injili Arastamar Ngabang

Markus Amid

Sekolah Tinggi Teologi Injili Arastamar Ngabang

Aprianus Ledrik Moimau

Sekolah Tinggi Teologi Injili Arastamar (SETIA) Jakarta
Keywords:
ephesians, dosa, 'the dark rises of light'
Abstract
In the past, Ephesians committed various sins. Therefore, the apostle Paul was chosen by God to preach the gospel to Ephesus to leave sin according to the teaching, 'It is dark to rise the light.' The phrase 'the dark rises of light' is an attitude that must be taken by god's people, namely those who believe in Jesus Christ, to distinguish their lives from the lives of others who still live in sin. Aim the research to find mean phrase of 'the dark rises of light'. This research uses qualitative methods with a literature and exposition approach to the text of the Bible. From the results of this study, it is hoped that God's people do not tend to sin because sin is a violation of God's law. The conclusion and implication of the results of this study are that the sinful acts committed by a man or God's people, both in hidden places and in the open places violate God's law. God will give eternal punishment to everyone who does not renounce his sin and does not want to live in the miraculous light of Christ.
Dahulu orang-orang Efesus melakukan berbagai pelanggaran/dosa. Karena itu, rasul Paulus dipilih Allah agar memberitakan Injil ke Efesus supaya meninggalkan dosa sesuai pengajaran, 'Habis gelap terbitlah terang.' Frasa 'habis gelap terbitlah terang' merupakan sikap yang harus dilakukan oleh umat Tuhan, yakni yang beriman kepada Yesus Kristus, untuk membedakan kehidupannya dengan kehidupan orang lain yang masih tinggal di dalam dosa. Tujuan penelitian untuk menemukan makna dan pengajaran frasa 'Habis gelap terbitlah terang.' Penelitian ini menggunakan metode kualitatif dengan pendekatan kepustakaan dan eksposisi terhadap teks Alkitab. Dari hasil penelitian ini diharapkan umat Tuhan tidak memiliki kecenderungan untuk berbuat dosa karena dosa adalah pelanggaran hukum Tuhan. Konklusi dan implikasi hasil penelitian ini ialah perbuatan dosa yang dilakukan oleh manusia atau umat Tuhan, baik di tempat-tempat tersembunyi maupun di tempat-tempat terbuka adalah melanggar hukum Tuhan. Tuhan akan memberi hukuman kekal kepada setiap orang yang tidak meninggalkan dosanya dan tidak menghendaki untuk hidup di dalam terang Kristus yang ajaib.
Downloads
Download data is not yet available.
References
Bachtiar, Bachtiar. Buah Keserakahan. Jakarta: Tirtamedia, 2013.
Bambangan, Malik. "Analisis Teologis Terhadap Pandangan Jean Jacques Rousseau Tentang Asal-Usul Dosa." JURNAL LUXNOS 6, no. 1 (2020): 22–31.
Barus, Armand. Tafsir Alkitab Kontekstual-Oikumenis: Kolose. Jakarta: BPK Gunung Mulia, 2017.
Benyamin, Yoel. Keselamatan Dan Kehhidupan Kristen; Studi Eksegesa Terhadap Kitab Efesus. Luwuk: Pustaka Star's Lub, 2020.
Bilo, Dyulius Thomas. "Korelasi Landasan Teologis Dan Filosofis Dalam Pengembangan Prinsip Dan Praksis Pendidikan Agama Kristen." Phronesis Jurnal Teologi dan Misi 3, no. 1 (2020): 1–23. https://jurnal.sttsetia.ac.id/index.php/phr/article/view/46/35.
Brill, J Wesley. Surat-Surat Kepada Ketujuh Jemaat: Pesan Yesus Bagi Gereja-Nya Ddulu, Kini, Dan Nanti. Edited by Bestiana S. Bandung: Kalam Hidup, 2019.
Cho, Ho Hyung. "Ephesians 5:5 Revisited : A Study of ἡ Βασιλεία Τοῦ Χριστοῦ Καὶ Θεοῦ." Journal of Biblical Text Research 40, no. 04 (2017): 225–247.
Cohick, Lynn H. "EPHESIANS 6." In Ephesians: A New Covenant Commentary, 143–161. 1st ed. Cambridge UK: The Lutterworth Press, 2020.
Danandjaja, James. "Metode Penelitian Kepustakaan." Antropologi Indonesia 0, no. 52 (July 15, 2014): 82–92.
Dewi, Dwi Indarti Hutami, and Setiya Aji Sukma. "Cinta Lingkungan Sebagai Implementasi Nilai Karakter Religius: Suatu Persfektif Berdasarkan Efesus 5:1-21." Excelsis Deo: Jurnal Teologi, Misiologi, dan Pendidikan 4, no. 1 (2020): 1–18. https://sttexcelsius.ac.id/e-journal/index.php/excelsisdeo/article/view/25.
Enns, Paul. The Moody Handbook of Theology. Ke-3. Chicago: Moody Publisher, 2014.
Gombis, Timothy G. "Being the Fullness of God in Christ by the Spirit: Ephesians 5:18 in Its Epistolary Setting." Tyndale Bulletin 53, no. 2 (2002): 259–571.
Gulo, Manase. "Studi Eksegetis Ungkapan 'Tubumu Adalah Bait Roh Kudus' Berdasarkan 1 Korintus 6:19." Manna Rafflesia 3, no. 1 (2016): 48–75. https://journals.sttab.ac.id/index.php/man_raf/article/view/66.
Guthrie, Donald. The Pastoral Epistles. London: Inter-Varsity Press, 2009.
Hamilton, Ian. Ephesians: The Lectio Continua Expository Commentary on the New Testamen. Edited by Joel R Beeke and Jon D Payne. Grand Rapids: Reformation Heritage Books, 2017.
Henry, Matthew. Surat Roma, 1 & 2 Korintus. Edited by Johnny Tjia, Barry Van Der School, and Stevy W. Tilaa. Surabaya: Momentum, 2015.
Hulst, Mary S. Pedoman Khotbah Lengkap: Sepuluh Cara Praktis Untuk Khotbah Yang Lebih Baik. Jakarta: Waskita Publishing, 2018.
Hutagalung, Rahel Cynthia. "Konsep Teologis Perempuan Sundal Di Dalam Kitab Hosea." PASCA: Jurnal Teologi dan Pendidikan Agama Kristen 15, no. 2 (2019): 22–27. https://journal.stbi.ac.id/index.php/PSC/article/view/55.
Imeldawati, Tiur, and Yayan Erina Br. Regar. "Prinsip Pertumbuhan Rohani Dalam Efesus 5:1-21 Dan Korelasinya Dalam Mengupayakan Pertumbuhan Rohani Jemaat GPdI Gunung Moria Bedagai." Jurnal Christian Humaniora 5, no. 1 (2021): 94–106. https://e-journal.iakntarutung.ac.id/index.php/humaniora/article/view/615.
Imeldawati, Tiur, Iwan Setiawan Tarigan, and Warseto Freddy Sihombing. "Sikap Waspada Terhadap Ketamakan Akan Kekayaan (Lukas 12:13-21)." Areopagus : Jurnal Pendidikan Dan Teologi Kristen 19, no. 1 (2021): 121–134. https://e-journal.iakntarutung.ac.id/index.php/areopagus/article/view/608.
Kadjakoro, Yolanda Olivya. "Konsep Prajurit Allah Berdasarkan Efesus 6:10-20 Dan Implementasinya Dalam Kehidupan Orang Percaya." Jurnal Ilmiah Religiosity Entity Humanity (JIREH) 1, no. 1 (2019): 40–56. https://ojs-jireh.org/index.php/jireh/article/view/6/12.
Kang, Joshua Choonming. Spiritualitas Kebersyukuran : Berkat Tak Terduga Dari Mengucap Syukur. Edited by Paul S (Terj) Hidajat. Jakarta: Waskita Publishing, 2016.
Laukapitang, Yunus. Teologi Pertumbuhan Gereja: Kajian Alkitab Berdasarkan Surat Efesus. Bandung: Kalam Hidup, 2015.
Lukito, Daniel Lucas. Pudarnya Konsep Dosa Dalam Dunia Kekinian. Malang: Literatur SAAT, 2019.
Mangis, Michael. Dosa Ciri Diri. Jakarta: Waskita Publishing, 2011.
Mau, Marthen. "Implikasi Teologis Berita Pertobatan Yoel Dalam Yoel 2:12-17." MAGNUM OPUS: Jurnal Teologi dan Kepemimpinan Kristen 1, no. 2 (2020): 98–111. https://e-journal.sttikat.ac.id/index.php/magnumopus/article/view/48.
———. "Pengajaran Tentang Makna Ego Eimi Berdasarkan Injil Yohanes Dan Implikasinya Bagi Umat Kristen." Manna Rafflesia 8, no. 1 (2021): 220–240. https://journals.sttab.ac.id/index.php/man_raf/article/view/181.
Ogunleye, Adeolu. "Beyond Hand Waving: Indices For Hymn Leading in Corporate Christian Worship." E-Journal of Religious and Theological Studies 7, no. 9 (2021): 126–131.
Oktavia, Kristien, and Yonatan Alex Arifianto. "Memahami Efesus 5:1-21 Dalam Upaya Hidup Berpadanan Dengan Panggilan Orang Percaya Di Tengah 'Serigala.'" Jurnal Teologi Amreta (ISSN: 2599-3100) 4, no. 2 (2021): 47–73.
Pasaribu, Marulak. Eksposisi Injil Sinoptik : Mengenal Yesus Yang Diberitakan Dalam Injil Matius, Markus Dan Lukas. Edited by Tjuk Subandiah Kaihatu. Malang: Gandum Mas, 2019.
Pattinama, Yenny Anita. "Korelasi Buah Roh Dan Ibadah." SCRIPTURA: Jurnal Teologi dan Pelayanan Kontekstual 1, no. 1 (2016): 84–93. https://ejournal.stte.ac.id/index.php/scripta/article/view/30.
Penyusun, Tim. Alkitab Penuntun Hidup Berkelimpahan. Malang: Gandum Mas, 1994.
Poerwadarminta, W. J. S. "Kamus Umum Bahasa Indonesia - Google Books."
Pranoto, David Susilo. "Karakteristik Hamba Tuhan Berdasarkan 2 Timoteus 2:22-25." Manna Rafflesia 2, no. 2 (1970): 88–121. https://journals.sttab.ac.id/index.php/man_raf/article/view/58.
Rumahorbo, Herlince. Makna Garam Dan Terang Dunia : Sebuah Studi Biblika Terhadap Injil Matius 5:13-16. Edited by Adi Putra. Jakarta: PT. Vieka Wahana Semesta (PT Views), 2021.
Santoso, David Iman. "Latar Belakang Dan Tujuan Penulisan Kitab Wahyu." Veritas: Jurnal Teologi dan Pelayanan 4, no. 2 (2003): 155–171. https://ojs.seabs.ac.id/index.php/Veritas/article/view/118.
Saptika, Andarini, and Rizal Amarulloh. Kamus Bahasa Indonesia. Jakarta: PT. Multazam Mulia Utama, 2021.
Silaban, Berton Bostang Hamonangan. Dasar Musik : Pengantar Dalam Musik Gereja. Medan: Prodi Teologi STT-SU, 2021.
Subeno, Sutjipto. "Kata-Kata Hampa: Ringkasan Khotbah 07 Mei 2000 Dari Nas Efesus 5:6-7." GRII Andhika Surabaya. Last modified 2021. grii.andhika.org.
Suseno, Aloysius Wahyu Endro. "Imaji Biblis Dan Dogmatis Tentang Pertobatan Yang Menggembirakan." Jurnal Teologi 6, no. 2 (2017): 105–124. https://e-journal.usd.ac.id/index.php/jt/article/view/996/774.
Sutanto, Hasan. Perjanjian Baru Interlinear Yunani-Indonesia Dan Konkordansi Perjanjian Baru (PBIK) Jilid I. Jakarta: Lembaga Alkitab Indonesia, 2010.
———. Perjanjian Baru Interlinear Yunani-Indonesia Dan Konkordansi Perjanjian Baru (PBIK) Jilid II. Ketiga. Jakarta: Lembaga Alkitab Indonesia, 2010.
Talan, Yesri Esau. Diselamatkan Oleh Anugerah: Sebuah Analisis Teologis Surat Efesus. Edited by Made Nopen Supriadi. Bengkulu: Permata Rafflesia, 2021.
Timisela, Jacob. "Kajian Terhadap Fenomena Dipenuhi Roh Kudus Berdasarkan Efesus 5:18-21." JURNAL TEOLOGI GRACIA DEO 2, no. 1 (2019): 1–12. http://e-journal.sttbaptisjkt.ac.id/index.php/graciadeo/article/view/29/27.
Tino, Siska Arista, and Pestaria Happy Kristiana. "Menerapkan Konsep Hidup Menjadi Anak-Anak Terang Berdasarkan Efesus 5:1-21 Bagi Remaja GPdI Samiri, Serui, Papua." EPIGRAPHE: Jurnal Teologi dan Pelayanan Kristiani 4, no. 2 (2020): 183–196.
Tomson, Peter J. "The Song of Songs in the Teachings of Jesus and the Development of the Exposition on the Song." New Testament Studies 61, no. 4 (2015): 429–447.
Tönsing, J. Gertrud, Cas J. Wepener, and Cas Vos. "The 'Cognitive' and the 'Emotive' Component in Christian Songs: Tracing the Shifts in Traditional and Contemporary Songs." Verbum et Ecclesia 36, no. 1 (2015): 1–14. https://com-mendeley-prod-publicsharing-pdfstore.s3.eu-west-1.amazonaws.com/e250-CC-BY-2/10.4102/ve.v36i1.1308.pdf?
Turner, Max. "Approaching 'Personhood' in the New Testament, with Special Reference to Ephesians." Evangelical Quarterly: An International Review of Bible and Theology 77, no. 3 (2021): 211–233.
Wibowo, Moses. "Roh Kudus Dalam Teologi Perjanjian Baru I." Phronesis: Jurnal Teologi dan Misi 1, no. 1 (2018): 48–58. https://jurnal.sttsetia.ac.id/index.php/phr/article/view/5.
Zosim, Olga. "Popular Music in Contemporary Church Chants." Journal of History Culture and Art Research 9, no. 2 (2020): 227–235. http://kutaksam.karabuk.edu.tr/index.php/ilk/article/view/2508.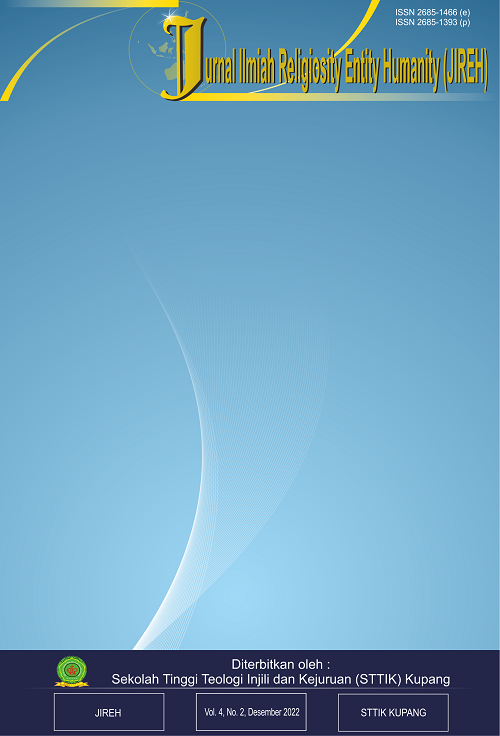 Copyright (c) 2022 Hasahatan Hutahaean, Marthen Mau, Markus Amid, Aprianus Ledrik Moimau
This work is licensed under a Creative Commons Attribution-NonCommercial 4.0 International License.

Copyright © 2019. Published by STTIK Kupang - Jurnal Ilmiah Religiosity Entity Humanity (JIREH). All Right Reserved.

Abstract viewed = 200 times PDF downloaded = 177 times