Developing an ICT Based Media of English Learning for Buddhist Students at Kusalamitra Homeschooling
Junaidi Junaidi

Sekolah Tinggi Agama Buddha Negeri Raden Wijaya Wonogiri

Arina Afiyati Shadikah

Sekolah Tinggi Agama Buddha Negeri Raden Wijaya Wonogiri

Walyono Walyono

Sekolah Tinggi Agama Buddha Negeri Raden Wijaya Wonogiri

Dwi Maryani Rispatiningsih

Sekolah Tinggi Agama Buddha Negeri Raden Wijaya Wonogiri
Keywords:
ICT, learning media development, English subject, Buddhist Students
Abstract
This study was conducted at one of Buddhist Homeschooling namely Kusalamitra Homeschooling. This study aimed to develop an ICT based application to learn English for Buddhist students of Kusalamitra Homeschooling. This recent study was a research and development study so it objected to develop an English learning application for the students. Subjects of this study were validators and Buddhist students. There were two techniques used to collect the data namely interview and questionnaires. The interview was used to identify students' need in learning English. The questionnaires were used to validate the product and evaluate the product. The data collected were analyzed qualitatively and quantitatively. There were five procedures in conducting this study. Those were analyzing needs, designing product, developing product, implementing product, and evaluating product.  Based on the research finding, this study showed that the media developed had very good quality and very worth to be implemented on the students.
Penelitian ini dilaksanakan di salah satu Homeschooling Buddha yang bernama Homeschooling Kusalamitra. Penelitian ini bertujuan untuk mengembangkan media pembelajaran bahasa Inggris berbasis teknologi informasi dan komunikasi. Penelitian ini merupakan jenis penelitian dan pengembangan yang bertujuan untuk mengembangkan sebuah aplikasi pembelajaran bahasa Inggris bagi siswa. Terdapat dua subjek dalam penelitian ini yaitu validator dan juga siswa Buddha homeschooling itu sendiri. Terdapat dua teknik yang digunakan untuk mengumpulkan data yaitu melalui wawancara dan penyebaran angket. Data yang dikumpulkan kemudian dianalisis secara kualitatif dan kuantitatif. Terdapat lima langkah dalam melaksanakan penelitian ini yaitu menganalisis kebutuhan, mendesain produk, mengembangkan produk, mengimplementasikan produk, dan mengevaluasi produk. Hasil penelitian menunjukkan bahwa media yang dikembangkan masuk dalam kategori sangat baik dan sangat layak untuk digunakan oleh siswa.
Downloads
Download data is not yet available.
References
Arofah, Rahmat, and Hari Cahyadi. "Pengembangan Bahan Ajar Berbasis ADDIE Model" 3, no. 1 (2019): 35–43. https://doi.org/10.21070/halaqa.v3i1.2124.
Bahri, Humaedi, Rizal, Mahfud M. Gamar, Misnah, and Andi Dewi Riang Tati. "Utilization of ICT-Based Learning Media in Local History Learning." Journal of Physics: Conference Series 1764, no. 1 (2021). https://doi.org/10.1088/1742-6596/1764/1/012079.
Cholik, Cecep Abdul. "Perkembangan Teknologi Informasi Komunikasi / ICT Dalam Berbagai Bidang." Jurnal Fakultas Teknik 2, no. 2 (2021): 39–46.
Dumiyati, Agus Wardhono, and Edy Nurfalah. "Kepraktisan Dan Keefektifan Penerapan Model Pembelajaran Berbasis ICT." Jurnal Pendidikan Ekonomi Manajemen Dan Keuangan 3, no. 1 (2019): 1–14. https://doi.org/10.26740/jpeka.v3n1.p1-14.
Hanafi. "Konsep Penelitian R&D Dalam Bidang Pendidikan." Saintifika Islamica: Jurnal Kajian Keislaman 4, no. 2 (2017): 129–50.
Hidayati, Tri, and Ines Heidiani Ikasari. "Developing Ict-Based Calculus Learning Media." JPMI (Jurnal Pendidikan Matematika Indonesia) 5, no. 1 (2020): 10. https://doi.org/10.26737/jpmi.v5i1.1463.
Imran, Hasyim Ali. "Fenomena Perkembangan TIK, Strukturasi, Spasialisasi Dan Media Cetak ICT Development Phenomenon, Structuration , Spatialization And Print Media." Jurnal Penelitian Pos Dan Informatika 5, no. 2 (2015): 139–60. https://doi.org/10.17933/jppi.2015.050.
Isya, Muhammad Andi. "Pengembangan Model Pembelajaran Instruksional Design Dengan Model Addie Mata Pelajaran PAI Pada Materi Mengulang-Ulang Hafalan Surah Al Ma'un Dan Al Fil Secara Klasikal, Kelompok Dan Individu Kelas V SDN Gedongan 2 Kota Mojokerto." TA'DIBIA Jurnal Ilmiah Pendidikan Agama Islam 7, no. 1 (2017): 71–80.
Julia, Cheri, Erwin Rahayu Saputra, and Dwiana Asih Wiranti. "Penggunaan Media Berbasis ICT Dengan Aplikasi Powtoon Pada Mata Pelajaran Bahasa Indonesia." Jurnal Pendidikan Dasar: Jurnal Tunas Nusantara 4, no. 1 (2022): 449–57.
Koriaty, Sri, and Muhammad Dwi Agustani. "Pengembangan Model Pembelajaran Game Edukasi Untuk Meningkatkan Minat Siswa Kelas X TKL SMK Negeri 7 Pontianak." Jurnal Edukasi 14, no. 2 (2016): 277–88.
Miftah, M. "Pemanfaatan Media Pembelajaran Untuk Peningkatan Kualitas Belajar Siswa." Jurnal Kwangsan 2, no. 1 (2014): 1–11.
Nailiah, Indah Mafazatin, and Erwin Rahayu Saputra. "Pengembangan Media ICT Berbasis Video Animasi Pada Pembelajaran Bahasa Indonesia Di SD." Jurnal Inovasi Pendidikan Dasar 6, no. 1 (2022): 8–15.
Nasrulloh, Iman, and Ali Ismail. "Analisis Kebutuhan Pembelajaran Berbasis ICT." Jurnal PETIK 3, no. 1 (2017): 28–32.
Peterson, Christine. "Bringing ADDIE to Life: Instructional Design at Its Best - Learning & Technology Library (LearnTechLib)." Journal of Educatioanal Multimedia and Hypermedia 12, no. 3 (2003): 227–41. http://www.learntechlib.org/p/2074/.
Sugihartini, Nyoman, and Kadek Yudiana. "ADDIE Sebagai Model Pengembangan Media Instruksional Edukatif (MIE) Mata Kuliah Kurikulum Dan Pengajaran." Jurnal Pendidikan Teknologi Dan Kejuruan Vol. 15, no. 2 (2018): 277–86.
Sugiyono. Metode Penelitian Pendidikan (Pendekatan Kuantitatif, Kualitatif& RND). Bandun: Alfabeta, 2014.
Syukur, Imam Abdul. "Profesionalisme Guru Dalam Mengimplementasikan Teknologi Informasi Dan Komunikasi Di Kabupaten Nganjuk." Jurnal Pendidikan Dan Kebudayaan 20 (2014): 200–210.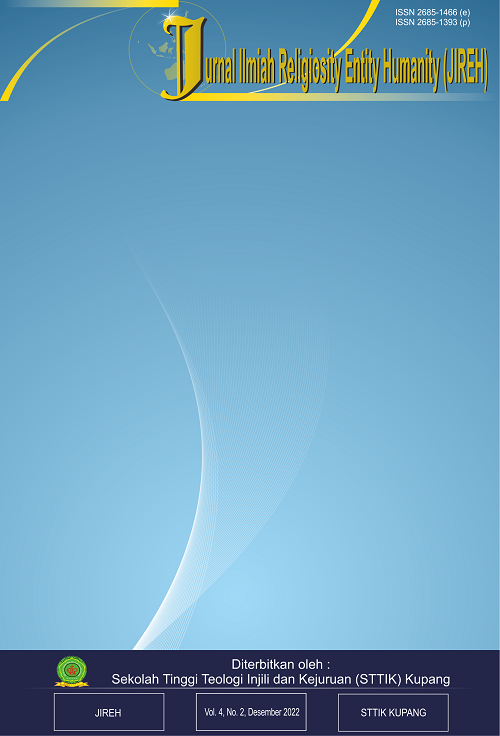 How to Cite
Junaidi, Junaidi, Arina Shadikah, Walyono Walyono, and Dwi Rispatiningsih. "Developing an ICT Based Media of English Learning for Buddhist Students at Kusalamitra Homeschooling". Jurnal Ilmiah Religiosity Entity Humanity (JIREH) 4, no. 2 (December 30, 2022): 369-381. Accessed March 23, 2023. https://ojs-jireh.org/index.php/jireh/article/view/130.
Copyright (c) 2022 Arina Afiyati Shadikah, Junaidi Junaidi, Walyono Walyono, Dwi Maryani Rispatiningsih
This work is licensed under a Creative Commons Attribution-NonCommercial 4.0 International License.

Copyright © 2019. Published by STTIK Kupang - Jurnal Ilmiah Religiosity Entity Humanity (JIREH). All Right Reserved.

Abstract viewed = 187 times PDF downloaded = 88 times