The Lost of Gospel in The Church and Evangelism in the World: The Deadly Scream and the Answers
Stevri P.N. Indra Lumintang

International Reformed Evangelical Seminary, Jakarta
Keywords:
Church, Evangelism, lost of the Gospel, the world
Abstract
This research aims to explore the lost Gospel in worldwide churches, especially the evangelical churches in Indonesia and the loss of evangelism in the world. This research was stimulated by the influence of secularism and pragmatism in the church as a result of the change in worldview from the modern era to being postmodern. Based on content analysis research methods, analyzing specifically the contents of several major literatures, it was found that the Gospel and evangelism had indeed disappeared in many church organizations, including evangelical churches and schools of theology in Indonesia. Because of these churches tend to follow the world's mindset and standards, thus leaving the Gospel as the highest standard, as seen in their world-oriented and worldly-inclined way of life. Many churches are conforming to the world. In fact, the loss of the Gospel in the church and evangelization in the world is the biggest and most serious problem in the world, namely moral, mental and spiritual destruction and eternal destruction. For this reason, reformation of the Gospel and evangelism have become an important and urgent agenda, so that the church returns to its nature as a church, the sole agent of God's gospel in the world and returns to its main function, namely evangelizing the world. That is the only solution to the problems of the church and the world. This research is useful for theologians around the world to provide awareness and awareness for the church to carry out its function as the salt and light of the world through the Gospel and evangelism.
Downloads
Download data is not yet available.
References
Albert-Marie Schmidt. Calvin and the Calvinistic Tradition. New York: Harper-Brothers, 1960.
Alister E. McGrath. Iustitia Dei: A History of the Christian Doctrine of Justification. Third Edit. Cambridge: Cambridge University, 2005.
———. Sejarah Pemikiran Reformasi. Jakarta: BPK Gunung Mulia, 2002.
Brad Bigney. Gospel Treason: Betraying the Gospel with Hidden Idols. Phillipsburg, New Jersey: P&R Publishing, 2012.
Burk Parsons. "The Unchanging Gospel." in Ligonier, Theology, Salvation, the Gospel (2009). https://www.ligonier.org/learn/articles/unchanging-gospel.
C.H. Spurgeon. "The Unchangeable Christ." In Blue Letter Bible (1888). https://www.blueletterbible.org/Comm/spurgeon_charles/sermons/2358.cfm.
Chad Nelson and Robert H. Woods, R.H., Jr. "Content Analysis" in, The Routledge Handbook of Research Methods in the Study of Religion, Edited by Michael Stausberg and Steven Engler. London: Routledge Taylor and Francis Group, 2011.
Darrel W. Robinson. Billy Graham "Prakata" Total Life. Bandung: Lembaga Literatur Baptis, 2004.
Darrell L. Bock. The Missing Gospels: Unearthing the Truth Behind Alternative Christianities. Nashville, Tennessee: Nelson Books, 2006.
David F. Well. Mengatasi Segala Kuasa Dunia: Kristus Di Dalam Dunia Postmodernisme. Surabaya: Momentum, 2013.
David F. Wells. No Place for Truth. Surabaya: Momentum, 2004.
David J. Engelsma. The Reformed Wordview on Behalf of Godly Culture. Grandville: PRC Evangelism Committees, 2005.
Donald E. Demaray. Proclaiming the Truth: Guides to Scripture Preaching. Grand Rapids: Baker Book House, 1979.
Elmer Towns. Tanggapan Pihak Penginjilan Efektif, Dalam Evaluating the Church Growth Movement. Edited by Gary L. McIntosh. Malang: Gandum Mas, 2006.
Elo, Satu, Maria Kääriäinen, Outi Kanste, Tarja Pölkki, Kati Utriainen, and Helvi Kyngäs. "Qualitative Content Analysis." SAGE Open 4, no. 1 (January 1, 2014): 215824401452263. http://journals.sagepub.com/doi/10.1177/2158244014522633.
Eric L. Johnson. Sejarah Singkat Kekristenan Dalam Psikologi. In Dalam Psychology and Christianity: Five Views. Malang: Literatur SAAT, 2012.
Eric W. Gritsch. A History of Lutheranism. Second edi. Minnea-polis: Fortress Press, 2010.
Erwin W. Lutzer. Rescuing the Gospel: The Story and Significances of the Reformation. Grand Rapids: Baker Books, 2016.
Francois Wendel. Calvin: Origins and Development of His Religious Thought. Grand Rapids: Baker Books, 2002.
George Barna. Marketing the Church. Colorado: NavPress, 1988.
———. "New Marriage and Divorce Statistic Released." In Barna Research in Family and Kids (2008). https://www.barna.com/research/new-marriage-and-divorce-statistics-released/.
———. "The End of Absolutes: American's New Moral Code." in Barna, Research Release (2016). https://www.barna.com/research/the-end-of-absolutes-americas-new-moral-code/.
Handi Irawan (Ketua). "Ringkasan Hasil Temuan Survei." Bilangan Research Center. Last modified 2017. https://bilanganresearch.com/hasil-penelitian.html.
Heindrich Bornkamm. The Heart of Reformation Faith, n.d.
John A. Baird, Jr. The Whole Gospel for the Whole World. Philadelphia: The Eastern Baptist Theological Seminary, 1975.
John G. Stackhouse Jr. From Architecture to Argument: Historic Resources for Christian Apologetics. Edited by Timothy R. Phillips. In Christian Apologetics in the Postmodern World. Downers Grove, Illinois: InterVarsity Press, 1995.
John MacArthur. Ashamed of the Gospel: When the Church Becomes Like the World. Third Edit. Wheaton, Illinois: Crossway, 2010.
John Piper. God Is The Gospel. Wheator: Illinois: Crossway, 2005.
K. Krippendorff. "Reliability in Content Analysis: Some Common Misconception and Recommendations." Human Communication Research (2004): 411–433.
Leith Anderson. Dying for Change: An Arresting Look at the New Realities Confronting Churches and Parachurch Ministries. Minneapolis: Bethany, 1999.
Lorna Knowles. "Gereja Hillsong Beberkan Perbuatan Tak Senonoh Yang Dilakukan Pendirinya Terhadap Dua Perempuan." Dalam News: More from ABC News. Last modified 2022. https://www.abc.net.au/indonesian/2022-03-18/pendiri-gereja-hillsong-tidak-senonoh/100922150.
M. Djami Radja Uly. Sejarah Berdirinya Sekolah Tinggi Theologia "I-3." Edited by H. Hasiwinoto. Institut Injil Indonesia, n.d.
Mark P. Cosgrove. Foundations of Christian Thought. Grand Rapids: Kregel Publications, 2006.
Michael Horton. Kekristenan Tanpa Kristus. Surabaya: Momentum, 2012.
Paul C. Vitz. Psychology as Religion: The Cult of Self-Worship. Grand Rapids: William B. Eerdmans Publishing Company, 1994.
Paul Washer. The Gospel's Power and Message. Grand Rapids, Michigan: Reformation Heritage Books, 2012.
———. The Gospel Call and True Conversion. Grand Rapids, Michigan: Reformation Heritage Books, 2013.
Roger E. Olson. The Story of Christian Theology: Twenty Century of Tradition and Reform. Downers Grove, Illinois: IVP Academic, 1999.
Ron Luce. Battle Cry for a Generation: The Fight to Save America's Youth. Colorado, 2005. David C. Cook Publishing Co.
Ronald J. Sider. The Scandal of the Evangelical Conscience. Surabaya: Literatur Perkantas, 2007.
Ryan Sheehan. "3500 People Leave the Church Every Day." The Fuller Institute, Barna Group, The Kross and Pastoral Care Inc. (n.d.). christianpost.com.
Shendy Carolina Lumintang. "Theology of Reformed Spirituality in Discuption Era," In Advances in Social Science, Education and Humanities Research." Atlantis Press 669 (2021).
Shin Hyun Kwan. Gospel That Must Be Restored, Enjoy and Deliver to the 237 Nations. Daegu: Mission First Church, 2018.
Stanley J. Grenz. "Ecclesiology." in Postmodern Theology (n.d.): 252.
Stephen Tong. Theologia Penginjilan. Surabaya: Momentum, 2017.
Stevri I. Lumintang. Keunikan Theologia Kristen Di Tengah Kepalsuan. Batu: Departemen Literatur PPII, 2010.
———. Theologia Reformasi Abad XXI: Gereja Menjadi Serupa Dunia. Jakarta: Geneva Insani Indonesia, 2017.
Stevri Indra Lumintang. Finalitas Kristus Dan Kekristenan: Arrogant, Tolerant, Ignorant? Jakarta: Geneva Insani Indonesia, 2018.
———. Injil Palsu (Non-Biblikal Dan Non-Kanonikal) Dalam Gereja. Edited by Danik Astuti Lumintang, Shendy Carolina Lumintang, Sheren Angelina Lumintang, and Sheline Feranda Lumintang. Jakarta: Geneva Insani Indonesia, 2020.
———. Misiologia Kontemporer: Menuju Rekonstruksi Theologia Misi Yang Seutuhnya. Batu: Departemen Multi Media, YPPII, 2009.
Stevri Indra Lumintang & Danik Astuti Lumintang. Theologia Penelitian Dan Penelitian Theologis: Science-Ascience Serta Metodologinya. Jakarta: Geneva Insani Indonesia, 2016.
The Manila Manifesto (Excerpt). "Second Lausanne International Congress on World Evangelization" 13, no. 4 (1989). https://journals.sagepub.com/doi/abs/10.1177/239693938901300405.
The Seeeker Service. "Evangelism and Worship." in The Great Worship Awakeing (n.d.).
Timothy Keller. "The Decline and Renewal of the American Church, Part 2 The Decline of Evangelism." In Life in the Gospel (2022). https://quarterly.gospelinlife.com/the-decline-of-evangelicalism/.
Wayne Grudem. Free Grace: 5 Ways It Diminishes the Gospel. Wheaton, Illinois: Crossway Publisher, 2016.
———. Free Grace Theology. Wheaton, Illinois: Crossway, 2016.
Will Metzger. Tell The Truth: : The Whole Gospel to the Whole Person by Whole People. Surabaya: Momentum, 2005.
Gereja Yang Memandang Rendah Para Penginjil (Pekabar Injil) Adalah Gereja Yang Memandang Rendah Penginjilan, Yang Pada Hakikatnya Mengungkapkan Gereja Yang Merendahkan INJIL (Stevri P.N.I. Lumintang), n.d.
Mengenal Sekolah Tinggi Teologi Jaffray. Makasar, n.d. https://www.sttjaffray.ac.id/profil.
"Persekutuan Antar Sekolah-Sekolah Theologi Injili Indonesia." https://www.pasti.or.id/sejarah/.
"Sekolah Tinggi Alkitab Tiranus." https://www.mebinonline.org/profil-stt-di-indonesia/sekolah-tinggi-alkitab-tiranus/.
"Sekolah Tinggi Filsafat Theologi Jakarta." Accessed March 4, 2022. https://id.wikipedia.org/wiki/Sekolah_Tinggi_Filsafat_Theologia_Jakarta.
"Sekolah Tinggi Teologi Reformed Injili Indonesia." https://sttrii.ac.id/tentang-kami.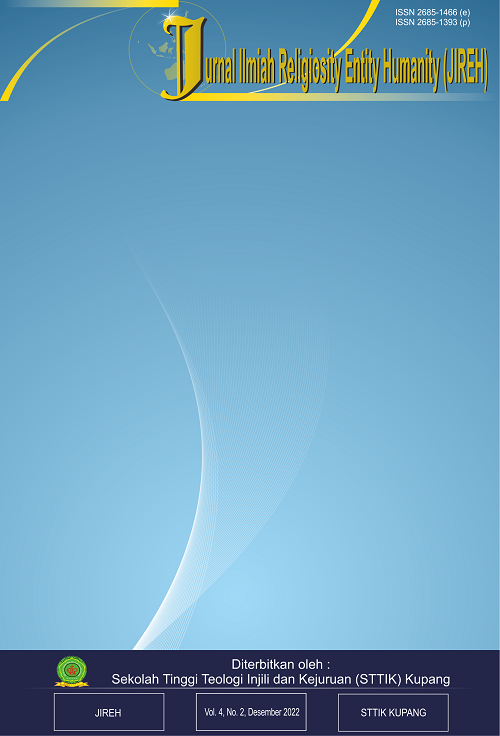 How to Cite
Lumintang, Stevri. "The Lost of Gospel in The Church and Evangelism in the World: The Deadly Scream and the Answers". Jurnal Ilmiah Religiosity Entity Humanity (JIREH) 4, no. 2 (December 17, 2022): 195-217. Accessed March 23, 2023. https://ojs-jireh.org/index.php/jireh/article/view/116.
Copyright (c) 2022 Stevri P.N. Indra Lumintang
This work is licensed under a Creative Commons Attribution-NonCommercial 4.0 International License.

Copyright © 2019. Published by STTIK Kupang - Jurnal Ilmiah Religiosity Entity Humanity (JIREH). All Right Reserved.

Abstract viewed = 368 times PDF downloaded = 145 times