Rekonstruksi Sosial Jemaat Katunen Pada Esoterisme Religio Magis Bukit Batu
Yuel Yuel

Institut Agama Kristen Negeri Palangka Raya
Keywords:
esoterisme religio magis, jemaat katunen, rekonstruksi sosial
Abstract
This research stems from the phenomenon of religious and psycho-social community life dayak Ngaju Katingan that must be faced by members of the Katunen Congregation. The Esoteric Rite of The Rock is loaded with magi practices can affect the personality of members of the congregation who should grow and develop into mature and faithful members of the Church. The research focused on the socio-cultural construction of the Dayak Ngaju Katingan community through the externalization, objectification, and internalization of members of the congregation, the consciousness of adult congregation members. The research method used is phenomenal. The results showed that the Esoteric Social construction of Bukit Batu for the members of the Riwut asi Katunen Kasongan congregation processed externalization, objectivation and internalization. The socio-cultural construction of katingan society towards Bukit Batu as a social reality is an expression of Dayak Ngaju Katingan's imagination of the world and transcendent values are religio magi. In general, most Dayak Ngaju Katingan people support and faithfully carry out the rite. The social reconstruction of adult church members to the stone hill rite is implemented in the learning of adult packs in the congregation through Sunday worship and categorical worship, especially the service section of the fathers, the women's ministry section and also through family worship.
Penelitian ini bertitik tolak dari fenomena kehidupan masyarakat keagamaan dan psiko-sosial masyarakat Dayak Ngaju Katingan yang harus dihadapi anggota Jemaat Katunen. Ritus Esoteris Bukit Batu sarat dengan praktek magi dapat mempengaruhi kepribadian anggota jemaat yang seharusnya tumbuh dan berkembang menjadi anggota Jemaat yang dewasa dan yang beriman.. Penelitian ini difokuskan pada konstruksi sosial-budaya masyarakat Dayak Ngaju Katingan melalui eksternalisasi, objektivasi, dan internalisasi anggota jemaat, kesadaran anggota jemaat dewasa. Metode penelitian yang digunakan adalah fenomenalogi. Hasil penelitian menunjukkan bahwa konstruksi Sosial Esoteris Bukit Batu bagi warga jemaat Riwut asi Katunen Kasongan berproses secara eksternalisasi, objektivasi dan internalisasi. Konstruksi sosial budaya masyarakat Katingan terhadap Bukit Batu sebagai realitas sosial adalah ungkapan penghayatan Dayak Ngaju Katingan tentang dunia dan nilai transenden bersifat religio magi. Pada umumnya kebanyakan masyarakat Dayak Ngaju Katingan mendukung dan setia melaksanakan ritus.Rekonstruksi sosial anggota jemaat dewasa terhadap ritus bukit batu diimplementasikan pada pembelajaran pak dewasa di jemaat melalui ibadah minggu dan ibadah kategorial khususnya ibadah seksi pelayanan bapak-bapak, seksi pelayanan perempuan dan juga melalui ibadah keluarga.
Downloads
Download data is not yet available.
References
Arifin, Bambang Syamsul. Psikologi Agama. Bandung: Pustaka Setia, 2008.
Berger, P dan T. Luckman. The Sosial Construction of Reality A Treatise in the Sosiology of Knowleadge. New York: Doubleday, 1991.
Frazer, James George. The Golden Bough A Study of Magic Anda Religion. New York: The Flonting Press, 2009.
Koentjaraningrat. Beberapa Pokok Antropologi Sosial. Jakarta: Dian Rakyat, 1990.
———. Pengantar Antropologi I. Jakarta: Bineka Cipta, 2013.
———. Sejarah Teori Antropologi. Jakarta: Universitas Indonesia Press, 1982.
Miles, Matthew B, and A.Michael Huberman. Qualitative Data Analysis. Depok: UI Press, 2005.
Neihbur, Richard. Kristus Dan Kebudayaan. Jakarta: BPK Gunung Mulia, 2009.
Nuhamara, Daniel. Pembimbing Pendidikan Agama Kristen. Bandung: Jurnal Info Media, 2009.
Piaget, Jean. Antara Tindakan Dan Pikiran. Jakarta: Gramedia, 2014.
Qardhawi, Y. Problematika Rekonstruksi Ushul Fiqih (Al-Fiqih Al-Islami Bayn Al-Ashilah Wa Al-Tajdid). Tasikmalaya, 2014.
Ritzer, George dan Dougles Goodman. Teori Sosiologi Modern. Jakarta: Pranada Media, 2004.
Riyanto, Yatim. Paradigma Baru Pembelajaran. Jakarta: Kencana, 2009.
Solahudin, Liputo. Religious Dan Psychological Well-Being. Malang: UIN Press, 2009.
Suparno, Paul. Teori Perkembangan Kognitif Jean Peaget. Yogyakarta: Kanisius, 2001.
Turrner, Bryn. The Penguin Dictionary Of Sociology, Novany. Yogyakarta: Pustaka Pelajar, 2010.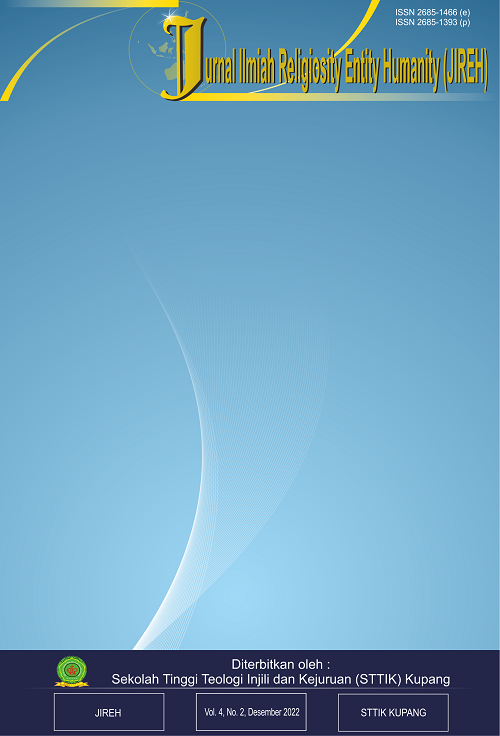 How to Cite
Yuel, Yuel. "Rekonstruksi Sosial Jemaat Katunen Pada Esoterisme Religio Magis Bukit Batu". Jurnal Ilmiah Religiosity Entity Humanity (JIREH) 4, no. 2 (December 31, 2022): 399-414. Accessed March 23, 2023. https://ojs-jireh.org/index.php/jireh/article/view/113.
Copyright (c) 2022 Yuel Yuel
This work is licensed under a Creative Commons Attribution-NonCommercial 4.0 International License.

Copyright © 2019. Published by STTIK Kupang - Jurnal Ilmiah Religiosity Entity Humanity (JIREH). All Right Reserved.

Abstract viewed = 84 times PDF downloaded = 78 times