Konsep Menyerahkan Orang Kepada Iblis dalam 1 Korintus 5:1-13 dan Implementasinya dalam Kehidupan Orang Percaya
Andre Malau

Sekolah Tinggi Filsafat Theologia Jaffray Makassar

Christopher James Luthy

University of Divinity, Australia

Yunus D. S. Laukapitang

Sekolah Tinggi Filsafat Theologia Jaffray Makassar
Keywords:
church discipline, satan, perdition, spirit, body
Abstract
The basic diificulty in understanding the text is understanding the role of the devil who destroys the body but aims to save the soul of the person who is handed over to the devil which is very contrary to the goal of the devil who wants to destroy humans so that they experience eternal death instead of saving the soul.  The purpose of this study is to examine the concept of handing people over to the devil in the text of 1 Corinthians 5:1-13. In addition, the author also explains the implications of the text for believers today. This study uses a grammatical-historical hermeneutic study method. The result of the author's study is that the concept of handing people over to the Devil in 1 Corinthians 5:1-13 is an act of the congregation by exercising church discipline against church members who have not left their sins and aims to provide a deterrent effect. Meanwhile, the implementation of the concept of handing people over to the Devil/demons in 1 Corinthians 5:1-13 is that believers live in a commitment to holiness, carry out church discipline as the identity of the holy people, and carry out church discipline as the authority of the congregation.
Kesulitan dasar dalam memahami teks tersebut ialah memahami peran Iblis yang membinasakan tubuh namun bertujuan untuk keselamatan roh atas orang yang diserahkan kepada Iblis yang sangat bertentangan dengan tujuan Iblis yang mau membinasakan manusia agar mengalami kematian kekal bukan keselamatan roh. Tujuan dari penelitian ini ialah mengkaji konsep menyerahkan orang kepada Iblis dalam teks 1 Korintus 5:1-13. Selain itu, penulis juga menjelaskan implikasi teks bagi orang percaya pada masa kini. Penelitian ini menggunakan metode kajian hermeneutik gramatikal-historis. Hasil kajian penulis ialah konsep menyerahkan orang kepada Iblis dalam 1 Korintus 5:1-13 adalah tindakan jemaat dengan menjalankan disiplin gereja terhadap anggota jemaat yang belum meninggalkan dosanya dan bertujuan memberikan efek jera. Adapun, implikasi dari konsep menyerahkan orang kepada Iblis/setan dalam 1 Korintus 5:1-13 ialah orang percaya hidup dalam komitmen kekudusan, menjalankan disiplin gereja sebagai identitas umat yang kudus, serta menjalankan disiplin gereja sebagai wewenang jemaat.
Downloads
Download data is not yet available.
References
Alkitab Terjemahan Baru. Jakarta: LAI, 2008.
Barret, C. K. Black's New Testament: The First Epistle to The Corinthians. London: Hendrickson Publishing, 1996.
Bauer, Walter. A Greek-English Lexicon of The New Testament and Other Early Christian Literature (BDAG), edisi ke-3, diedit Frederick W. Danker. Chicago: University of Chicago Press, 2000.
Bediako, D. K. "Spirit and Flesh: An Interpretation of 1 Corinthians 5:5." Journal of Cultural and Religious Studies 1 (December 2013): 21–27. https://doi.org/10.17265/2328-2177/2013.01.003.
Campbell, Barth L. "Flesh and Spirit in 1 Cor 5:5: An Exercise in Rhetorical Criticism of the NT." Journal of the Evangelical Theological Society 36, no. 3/4 (1993): 331–42. https://www.etsjets.org/files/JETS-PDFs/36/36-3/36-3-pp331-342_JETS.pdf.
Pattikawa, Helwen. "Kebinasaan Tubuh Dan Keselamatan Roh: Eksegesis 1 Korintus 5:5." Jurnal Dinamika Pendidikan 12, no. 2 (July 2019): 145–164.
https://doi.org/10.33541/jdp.v12i2.1088.
Pidyarto, H. "Tanggapan Terhadap Ruwatan Cara Katolik." Studia Philosophica et Theologica 6, no. 1 (Maret 2006): 86–95.
https://doi.org/10.35312/spet.v6i1.114.
Schafer, Ruth. Belajar Bahasa Yunani Koine: Panduan Memahami dan Menerjemahkan Teks Perjanjian Baru. Jakarta: Gunung Mulia, 2013.
Silva, Moises. ed. New International Dictionary of New Testament Theology and Exegesis Vol. 1-4 Grand Rapids: Zondervan, 2014.
South, James T. "A Critique of the 'Curse/Death' Interpretation of 1 Corinthians 5.1–8." New Testament Studies 39, no. 4 (October 1993): 539–561. https://doi.org/10.1017/S0028688500011954.
Subagyo, Andreas B. Pengantar Riset Kuantitatif dan Kualitatif: Termasuk Riset Teologi dan Keagamaan. Bandung: Kalam Hidup, 2004.
Suh, Michael K. W."Τὸ Πνεῦµα in 1 Corinthians 5:5: A Reconsideration of Patristic Exegesis," Vigiliae Christianae 72, no. 2 (Maret 2018): 121-141.
https://doi.org/10.1163/15700720-12341332
Sutanto, Hasan. Hermeneutik: Prinsip dan Metode Penafsiran Alkitab. Malang: Literatur SAAT, 2007.
_____. Perjanjian Baru Interlinear Yunani-Indonesia dan Konkordansi Perjanjian Baru Jilid II.
Jakarta: Lembaga Alkitab Indonesia, 2002.
Terry, Milton S.Biblical Hermeneutics: A treatise on The Interpretation of The Old and New Testaments. Grand Rapids: Zondervan, 1979.
Thuan, Hali Tjiauw. "Serahkan Kepada Iblis: Studi Eksegetikal Atas 1 Korintus 5:4-5 dan Implikasinya Dalam Penggembalaan." Studika Teologika 3, no. 1 (Juni 2017): 46–60. https://ejournal.sttiman.ac.id/index.php/studika/article/view/23.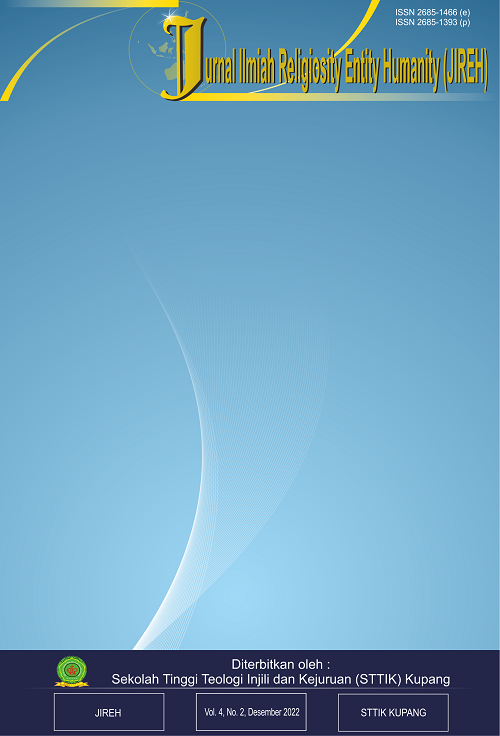 How to Cite
Malau, Andre, Christopher Luthy, and Yunus D. S. Laukapitang. "Konsep Menyerahkan Orang Kepada Iblis Dalam 1 Korintus 5:1-13 Dan Implementasinya Dalam Kehidupan Orang Percaya". Jurnal Ilmiah Religiosity Entity Humanity (JIREH) 4, no. 2 (December 30, 2022): 218-238. Accessed March 23, 2023. https://ojs-jireh.org/index.php/jireh/article/view/107.
Copyright (c) 2022 Andre Malau, Christopher James Luthy, Yunus D. S. Laukapitang
This work is licensed under a Creative Commons Attribution-NonCommercial 4.0 International License.

Copyright © 2019. Published by STTIK Kupang - Jurnal Ilmiah Religiosity Entity Humanity (JIREH). All Right Reserved.

Abstract viewed = 124 times PDF downloaded = 105 times