Motivasi Belajar Mahasiswa Melalui Gaya Mengajar Dosen Di Era Pandemi
Paskah Parlaungan Purba

Sekolah Tinggi Teologi Basom Batam

Ester Melati

Sekolah Tinggi Teologi Basom Batam
Keywords:
dosen, gaya mengajar, mahasiswa, motivasi belajar
Abstract
This study aims to confirm the influence of lecturers' teaching styles on student learning motivation at the Basom Theological College batam. This study used quantitative methods with a sample of 30 students. The findings of the study revealed that the teaching style of lecturers at STT Basom Batam affects student learning motivation. This is shown by the data that if th ≥ tt, then there is a significant Influence of Lecturer Teaching Style (X) on the Learning Motivation of STT Basom (Y) students. From the table it is known that tt = 1.697 and from the calculations obtained 2.696 at a significance level of 5% with N = 30. Thus, th > tt, meaning that there is a significant influence of the lecturer's teaching style on the learning motivation of STT Basom Batam students.
Penelitian ini bertujuan untuk mengkonfirmasi pengaruh gaya mengajar dosen terhadap motivasi belajar mahasiswa di Sekolah Tinggi Teologi Basom Batam. Penelitian ini menggunakan metode kuantitatif dengan sampel mahasiswa sebanyak 30 orang mahasiswa. Temuan penelitian mengungkapkan bahwa gaya mengajar dosen di STT Basom Batam mempengaruhi motivasi belajar mahasiswa. Hal ini ditunjukkan dengan data bahwa jika th ≥ tt, maka terdapat Pengaruh Gaya Mengajar Dosen (X) yang signifikan terhadap Motivasi Belajar mahasiswa STT Basom (Y). Dari tabel diketahui tt = 1,697 dan dari perhitungan diperoleh 2, 696 pada taraf signifikansi 5% dengan N = 30. Dengan demikian, th > tt, artinya terdapat pengaruh yang signifikan gaya mengajar dosen terhadap motivasi belajar mahasiswa STT Basom Batam.
Downloads
Download data is not yet available.
References
Aurora, Aviva, and Hansi Effendi. "Pengaruh Penggunaan Media Pembelajaran E-Learning Terhadap Motivasi Belajar Mahasiswa Di Universitas Negeri Padang" 05, no. 02 (2019): 11–16.
Fitriasari, Fika. "Hubungan Antara Kecemasan Dan Gaya Mengajar Dosen Dengan Hasil Belajar Matakuliah Matematika Ekonomi Mahasiswa Jurusan Manajemen Feb Umm Angkatan 2016." Seminar nasional dan gelar produk (2017): 759–768.
Harbeng Masni. "Strategi Meningkatkan Motivasi Belajar Mahasiswa Harbeng Masni 1." Dikdaya 05 (n.d.): 34–45.
Hutapea, Rinto Hasiholan. "Meneropong Kompetensi Kepribadian Guru Pendidikan Agama Kristen Sebagai Model Perilaku Peserta Didik." Veritas Lux Mea (Jurnal Teologi dan Pendidikan Kristen) 1, no. 2 (2019): 66–75. http://jurnal.sttkn.ac.id/index.php/Veritas/article/view/44/pdf.
Ikhsanudin, 2017. "Muhamad Ikhsanudin Analisis Gaya Mengajar." Jurnal pendidikan Islam Al I'tibar 3, no. 1 (2017): 56–73.
Syaiuful Sagala: Konsep dan Makna Pembelajaran:Untuk Membantu Memecahkan Problematika Belajar-Mengajar. Bandung, CV Alfabeta: 2003.
Suharsimi Artikunto, Prosedur Penelitian Suatu Pendekatan Praktis. Jakarta: Rineka
Cipta, 2001.
Winarno Surakhmad, Pengantar Penelitian Ilmiah. Bandung: Karsito, 1995.
S. Winkel, Psikologi Perkembangan. Jakarta: Gramedia, 1982.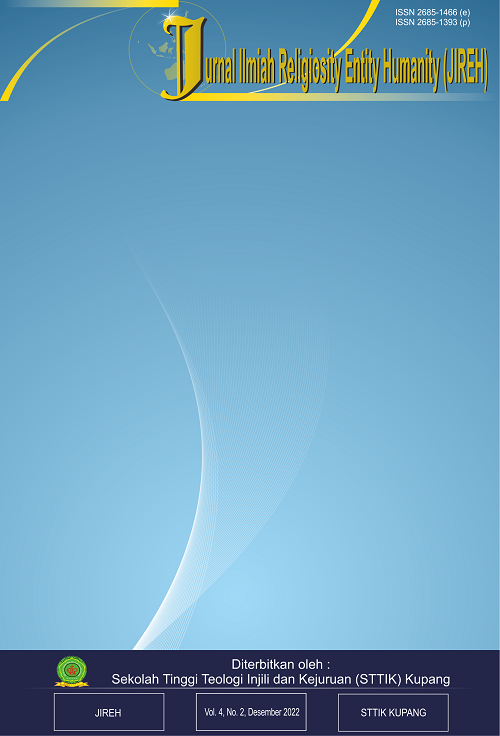 How to Cite
Purba, Paskah, and Ester Melati. "Motivasi Belajar Mahasiswa Melalui Gaya Mengajar Dosen Di Era Pandemi". Jurnal Ilmiah Religiosity Entity Humanity (JIREH) 4, no. 2 (November 2, 2022): 165-178. Accessed March 23, 2023. https://ojs-jireh.org/index.php/jireh/article/view/105.
Copyright (c) 2022 Paskah Parlaungan Purba, Ester Melati
This work is licensed under a Creative Commons Attribution-NonCommercial 4.0 International License.

Copyright © 2019. Published by STTIK Kupang - Jurnal Ilmiah Religiosity Entity Humanity (JIREH). All Right Reserved.

Abstract viewed = 277 times PDF downloaded = 242 times