Pendidikan Perempuan Pantekosta Sebagai Upaya Optimalisasi Peran Wanita Dalam Penatalayanan Gereja
Elsye Ribkah Runkat

Sekolah Tinggi Alkitab Jember
Keywords:
Women's education, church's duties, stewardship
Abstract
The fact show that there is still an understanding that women do not need to optimize themselves regarding the implementation of of the Christian faith, ethich and morality education as organism involved in church stewardship activities. Women deal mostly with consumption and are limited to housewives, a bad mirror of women among Pentecostal women. While Pentecostal women also seem to enjoy the condition without a role. This paper aims to provide a significant insight into the need for education for women to be optimal in their duties and role according to the Lord Jesus' mandate for believers which is facilitated in church stewardship. This paper was preceded by the application of descriptive qualitative research methods to served as church pastors, housewives, and leaders of Pentecostal service oraganizations. Researchers obtain the reality that the Pentecostal Church does not understand gender. Pentecostal women who are the source of data in this research are the facts of the domination of Pentecostal male ego, as well as providing a strong indication of the importance of Pentecostal women's education in the context of efforts to optimize the role of female congregation members in church stewardship as concrete events that require creative and transformative solutions.
Fakta bahwa masih ada pemahaman perempuan tidak perlu mengoptimalisasi diri terkait implementasi nilai-nilai iman Kristen, edukasi etika dan moralitas sebagai organisme yang terlibat dalam kegiatan penatalayanan gereja. Perempuan hanyalah berurusan dengan konsumsi, sebatas ibu rumah tangga, merupakan cermin buruk perempuan di kalangan perempuan Pantekosta. Sementara perempuan Pantekosta pun seolah-olah menikmati kondisi tanpa peran. Tulisan ini bertujuan memberikan suatu wawasan signifikan tentang perlunya pendidikan bagi kaum perempuan untuk menjadi optimal dalam tugas dan perannya sesuai mandat Tuhan Yesus bagi orang percaya yang difasilitasi dalam penatalayanan gereja. Tulisan ini didahului penerapan metode penelitian kualitatif yang bersifat deskriptif pada beberapa perempuan yang berperan sebagai gembala jemaat, ibu rumah tangga, dan pemimpin wadah-wadah pelayanan Pantekosta. Peneliti memperoleh realita bahwa Gereja Pantekosta tidak mengerti perihal gender. Perempuan Pantekosta yang menjadi sumber data dalam riset ini adalah fakta dominasi keakuan laki-laki Pantekosta, sekaligus memberikan indikasi kuat pentingnya pendidikan perempuan Pantekosta dalam rangka upaya optimalisasi peran warga jemaat kategori wanita dalam penatalayanan gereja sebagai peristiwa kongkret yang membutuhkan solusi kreatif dan transformatif.
Downloads
Download data is not yet available.
References
Becher, Jeanne. Perempuan, Agama & Seksualitas. Jakarta: PT. BPK Gunung Mulia, 2001.
Bowie, Audrey. Menjadi Wanita Allah (Seri 2). Surabaya: Penerbit Metanoia, 2006.
———. Menjadi Wanita Allah (Seri 3). Surabaya: Penerbit Metanoia, 2007.
Brazelton, Katie. Wanita Yang Memiliki Tujuan. Malang: Penerbit Gandum Mas, 2008.
Creegan, Nicola Hoggard, and Christine D. Pohl. Perempuan Di Perbatasan. Jakarta: Gunung Mulia, 2010.
Jacobs, Cindy. Women of Destiny. Yogyakarta: Yayasan Andi, 1999.
———. Women of Destiny. Yogyakarta: Yayasan Andi, 1999.
Ongirwalu, Hendrik, and Cornelis Wairata. Pelayanan Kaum Perempuan GPIB. Jakarta: BPK Gunung Mulia, 2015.
Pantekosta, Komisi Pusat Pelayanan Wanita. Warisan NiLai Luhur Pejuang Wanita Pantekosta Tempo Doeloe. Edited by Pauline Leander and Kristina Tinu. Jakarta: Majelis Pusat Gereja Pantekosta di Indonesia, 2021.
Sidjabat, B.S. Pendewasaan Manusia Dewasa. Bandung: Kalam Hidup, 2014.
UNKRIS. "GEREJA PANTEKOSTA DI INDONESIA."
Wright, H. Norman. Questions Women Ask In Private. Ventura, California, USA: Regal Books, 1993.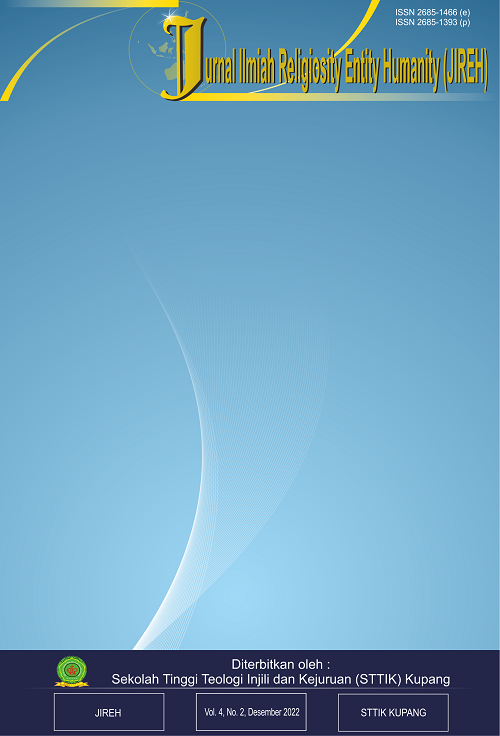 How to Cite
Runkat, Elsye. "Pendidikan Perempuan Pantekosta Sebagai Upaya Optimalisasi Peran Wanita Dalam Penatalayanan Gereja". Jurnal Ilmiah Religiosity Entity Humanity (JIREH) 4, no. 2 (December 30, 2022): 276-293. Accessed March 23, 2023. https://ojs-jireh.org/index.php/jireh/article/view/101.
Copyright (c) 2022 Elsye Ribkah Runkat
This work is licensed under a Creative Commons Attribution-NonCommercial 4.0 International License.

Copyright © 2019. Published by STTIK Kupang - Jurnal Ilmiah Religiosity Entity Humanity (JIREH). All Right Reserved.

Abstract viewed = 206 times PDF downloaded = 134 times